HOME TOUR: THE VINALHAVEN HEADQUARTERS OF MARSTON HOUSE
Open your eyes, and there is the water—a wind-rippled sweep of the brightest liquid blue. Sailboats and motorboats, lobster boats and fishing boats, all bobbing around the harbor, against a backdrop of white Cape Cod houses and colonial mansions and weathered red bait shacks. They're nested, here and there, where the sea and the sky meet the shore and the trees.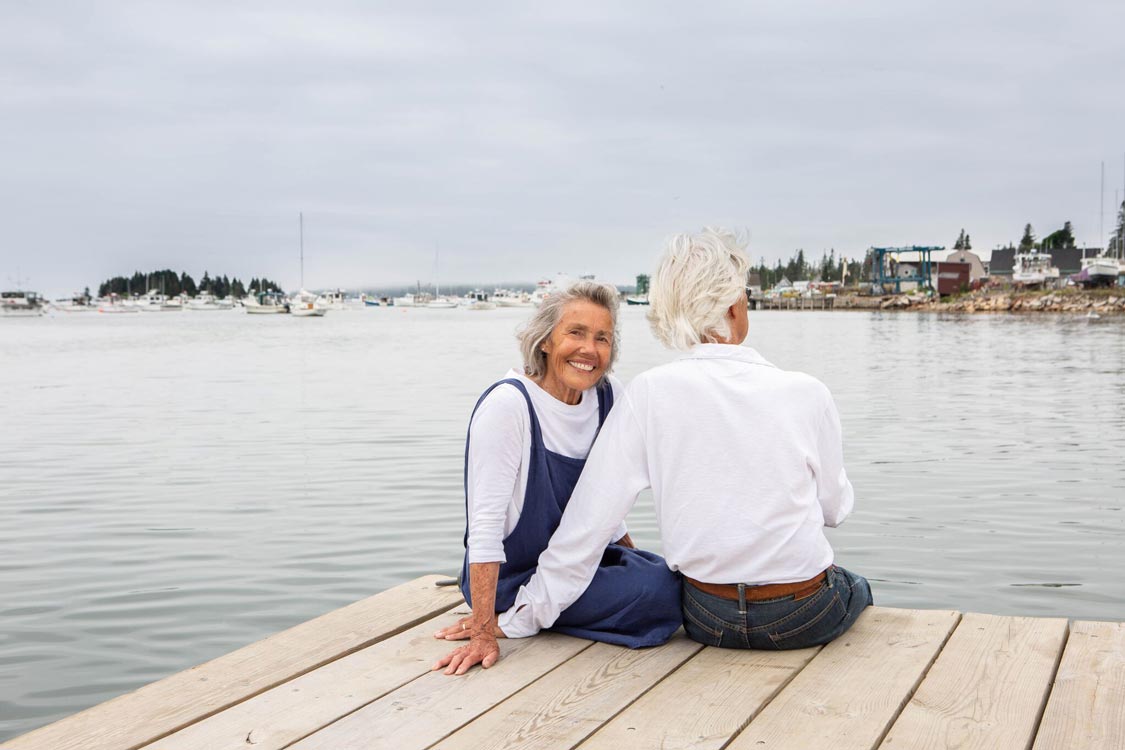 AFTER DECADES ON THE MAINLAND, SHARON AND PAUL FOUND THEIR VINALHAVEN HIDEAWAY. "WE WANTED TO SLOW OUR LIFE'S PACE."
This is Vinalhaven, Maine. And these two smiling, ever-gracious people are Sharon and Paul Mrozinski. Married for 31 years, they still spend every possible moment together. They wake together. They have breakfast together. ("We eat every meal together," Sharon says.) They run Marston House, a much-loved antiques shop and architectural design project, together. And "we do yoga together," Sharon adds, "in our bedroom on the water at the end of the work day."
But they began their lives apart, on opposite sides of the country. He was raised on the South Side of Chicago; she grew up in Arizona. "My parents built our first home in the desert," Sharon recalls. "We lived in a trailer until they completed our simple home, made from bricks they made by hand with sand in the dried-up river beds. It was a great spot for a kid like me who was impossibly filled with energy, independence, and curiosity."
As kids, neither of them was all that aware of the more genteel, cultured corners of the world. "We moved to Scottsdale when I was 10, and it was my first introduction to moneyed people," Sharon remembers. "We were not among them, and my dad taught me the best lesson of my life that first year: I was told by a classmate that we were poor, and when I asked my dad if it was true, he sat me on his lap and told me we were the richest family he knew. The message was and remains true today: 'Love is in the heart, not in the pocket.'"
I had no idea how I was going to do it, but I knew I had to live here.
Entering adulthood, Sharon moved to Southern California, just as Paul headed toward the desert she'd just left, enrolling in the College of Architecture at Arizona State University. She married in 1969. He graduated. And that same year, he was drafted into the US Army. By 1971, he had been released from active duty, landing in California, too.
Sharon and her then-husband opened a restaurant and gave birth to two sons, while Paul spent the next five years working for an architectural firm in Salinas before opening his own practice, which is when Sharon and Paul first met. "My first husband and I hired Paul to be our architect in 1977," Sharon recalls. "We worked easily and well together, and it was a great success for all." But there was something much deeper between them, though neither realized it until later. "We had no idea Paul and I were falling in love," she says.
Years would pass before they became the couple that today spends every possible moment together. In the meantime, Paul had two children, daughters, while Sharon's first marriage ended, and she opened her first shop, Tancredi & Morgen, in nearby Carmel-by-the-Sea.
The most important criteria is 'can we live with this piece forever?'
By the mid-'80s, though, they had finally paired up, and they were dreaming of leaving the West Coast and heading east. "California was great, and I enjoyed it for 20-plus years, but I never found the authenticity I longed for," Sharon explains. "California was so easy, no skills needed. I wanted to know how to survive. I wanted weather and storms and seasons. I wanted to learn how to get through the coldest winters, temper my steel, learn how to ice-skate and cross-country ski, how to build a really good fire in our fireplaces, cook over these fires all winter long, shovel snow, and, mostly, to teach my children all I had never learned living in Arizona and California."
Since childhood, there was just such a place that had lured her, with its otherworldly sunsets and wicked winds, its placid seascapes and brutal storms. "I first saw Maine in a postcard to my parents when I was around five and knew I wanted to be here," Sharon reminisces. And when she made her first visit as an adult in May 1974, she "completely fell in love."
A decade later, she traveled there with Paul. "It was the summer of 1984," he remembers. "I was fascinated by the simplicity, history, and authenticity of the architecture and furniture. I had never seen Shaker pieces and was infatuated with their simple beauty. Of course, the rawness of the Maine landscape was breathtaking."
After Sharon sold her Carmel shop in 1987, they bought their first home in Maine together in the town of Wiscasset. It was "built in 1785 for a ship's captain who died at sea," Paul says, and named for the Marston family, who had lived there since the mid-1800s. For the next 30 years, Sharon and Paul lived and worked out of that solid, charming place at 101 Main Street, US Route One. They opened their antiques shop and called it Marston House. ("Since it took over the great front rooms," Sharon says, "we lived upstairs.") And they raised their kids.
As all children do, though, Sharon's and Paul's grew up. And soon, the couple was dreaming about another adventure together. The unexpected outcome was the sale of their Wiscasset home and the purchase, in October 2016, of a late-19th-century building on the island of Vinalhaven. "We had no plan to look at real estate or start a new life on Vinalhaven," Sharon says. "Paul had to talk me into it."
The building—originally the post office on North Haven, the island north of Vinalhaven—had been moved to its current location in 1906 and "set right onto this granite island," Sharon explains, after an earlier structure, known as the Bridge House, burned to the ground. Over the next century, it was used for all sorts of commercial endeavors, accumulating decade upon decade and layer upon layer of drywall and paint and infrastructural clutter. That meant serious cleanup. And serious reconstruction.
"We gutted it," Paul says, plainly. "We removed all the poisonous materials that had been added over the last 30-plus years, designed and built a new interior with clean materials to fit our life, new electrical service, wiring, lights, new plumbing, new bathrooms, new windows on the north elevation." They relished the hard work. And they relished the results of all that hard work. "I had a plan for our renovations," Paul points out, satisfied. "We accommodated our furniture from the Wiscasset house, some pieces that we have owned for 40 years. It all worked so well."
There is no ideal day in Vinalhaven; every day brings surprises.
This is Marston House now. This is where they live. This is where they work. This is home. "The salty sea air, the smells, the natural beauty of Mother Nature surrounds us, and the tidal waters are exciting and filled with life," Sharon says.
And in the event of climate-change-related rising seas, disastrous storm surge, or some other natural calamity, they hope to go with this new place that they've made for themselves. "As water rises in Maine, it will most likely float off," Sharon suggests, puckishly. "We hope if that happens within our lifetime, we will be in bed asleep, or awake, and float away, together, like a dream."
Written by S. Pajot | Photographed by Marta Xochilt Perez | Produced and Art Directed by Michelle Adams