Colleen Herman's Tribeca Studio: 'A Home for My Work'
"Art has to live somewhere," says Colleen Herman, "not in a closet, not under the bed." But for "an embarrassingly long time," the Syracuse University art-school graduate kept her canvases, brushes, and tubes of paint packed into boxes and stacked in a storage unit. She was too busy working at an accessories company, and then a billion-dollar fashion brand, and then consulting, and then creating a housewares collection, "which required communicating with mills daily, getting and checking samples, speccing designs, and thinking about the financials."
She wasn't unhappy. Or deeply unfulfilled. In fact, Herman remembers her time working for Calvin Klein "as graduate school," a collaborative place where she mastered her craft. Her boss at the time, Amy Mellen, "had the studio set up like art school"—just a roomful of unrestrained creative types.
"And it was a dirty studio, in a good way," Herman recalls. "The Calvin Klein aesthetic was super minimal, and Mr. Klein's influence was felt all over the building, but our studio—there were eight of us—and we were whittling and silk screening and dyeing fabrics and painting and drawing and getting the floors messy."
For eight years, the job satisfied Herman's need to make art and talk about it. And then it didn't. So she left, "because I needed more freedom, more anonymity in the work that I was doing," she explains. She started to consult and also created a line of housewares, Tenfold New York, for The Line. "It was a different kind of exploration, but I was missing my own personal, hands-on interaction with color and freedom of expression," she confesses. "I wasn't painting every day."
Getting a studio felt like a certain rite of passage.
That's when she decided: "I need my own space, where I can come and work on the floor again, and paste things on the walls, and get dirty." Of course, she says, "there was always doubt, like, 'Can I afford it? Am I going to be able to make the bills? This is New York City; these rents aren't cheap. The supplies are costly.' I had all of these prohibitive thoughts. But I knew I needed to try."
Once she finally blocked out the internal naysaying, it took Herman no time to land her Tribeca studio. "I really lucked out," she admits. "I found a space that I could rent, month to month, from a professor who is a painting teacher at Pratt. So I have a mentor down the hall, and I get to share [the space] with another artist."
"Having the space opened up a portal to making again. I didn't realize that I was missing it that much."
At the same time, Herman was beginning to forge a new personal aesthetic. "Coming from a classical art background, I did a lot of pen and ink, watercolor, portraiture, oil painting. You know, I copied the masters, like Raphael and Claude Monet, just to understand technique and color and composition," she says. "Then I moved to Calvin Klein, where we had a very minimal aesthetic, and we were inspired by Japan as a country and a people, along with artists like Agnes Martin and Donald Judd. And there was a rigor and a tightness to the work that we were executing—everything was straight or on a grid line, and the colors were very gray. It all had a certain beauty and a timelessness that I really appreciated, but getting the studio, I just felt like I could throw as many colors on the wall as I wanted, and it felt so good and different."
This newfound expressiveness fully flourished when she traveled to Oaxaca, Mexico, in February 2018 to spend a month at the Pocoapoco residency program led by Jessica Chrastil. "She is incredibly inspiring," Herman says. "She pushes artists to do the things that we need to do, and dig down deep, and realize our dreams. That may sound lofty, but I owe her a lot."
Out in the Mexican wilderness, Herman had a transformative "out-of-body experience": "I would get stuck in these songs or sounds and play them on repeat, and live in them and let my body move . . . in a way that felt supernatural," she recalls. "Painting became more about a language and a conversation between colors."
She determined to tap into this different side of herself and bring it back to New York. "And it's pushed me into having shows and wanting to talk about art making with other artists," she says. That yearning for her own creative community has also helped spawn Salon Sundays, a weekly meeting group named after the get-togethers hosted by Louise Bourgeois, who would invite artists to her townhouse in Chelsea. "They would all have to bring a piece of art and then critique one another's work. It's a way of laying yourself out and saying, 'I'm here. This is what I'm making.'
"We hop around from place to place," Herman explains of Salon Sundays, "from Gowanus to Harlem to Williamsburg to Greenpoint to Tribeca to wherever. And when an artist doesn't have a studio space, they bring their work to someone else's. We just throw things on the floor and talk it through.
"We share everything—fears, hopes, dreams, the ugly," Herman says. "This group is the best thing to come out of having my own studio. And now I can't imagine not having a space that is a home for my work."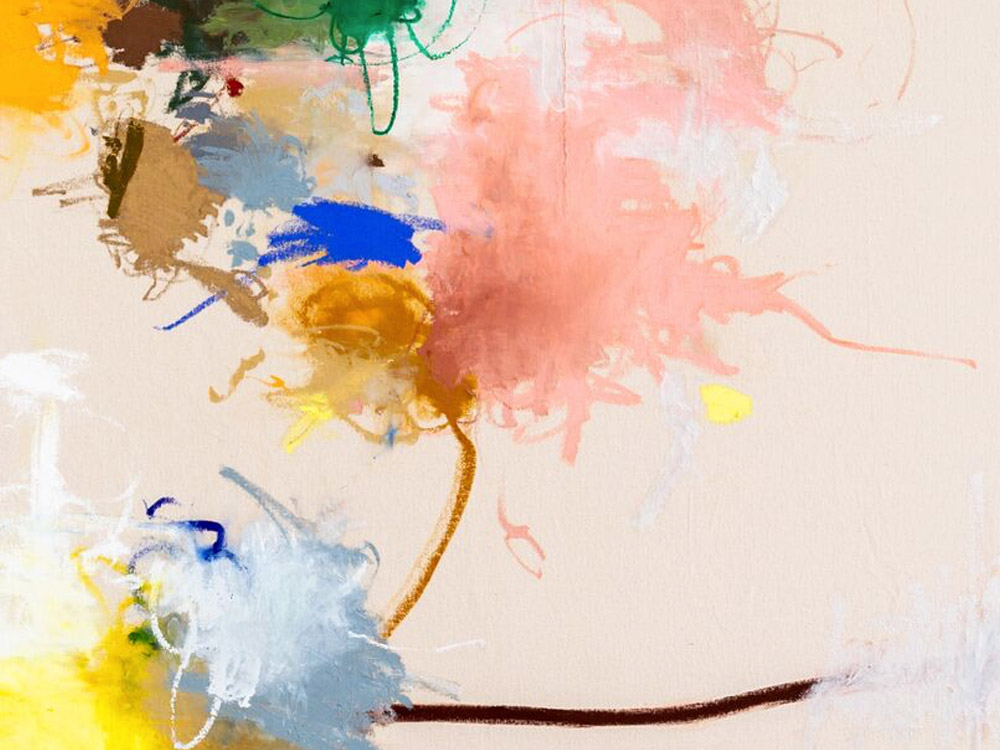 inquire about available works
Written by S. Pajot | Photographed by Marta Xochilt Perez | Produced and Art Directed by Michelle Adams